Raja, Rubina
Urban Development and Regional Identityin the Eastern Roman Provinces 50 BC–AD 250
Aphrodisias, Ephesos, Athens, Gerasa

2012, xvii+273 s., indb
Illustreret
ISBN 978-87-635-2606-7

2012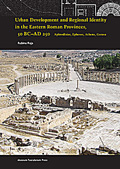 Providing a comparative treatment of four cities of the eastern Roman empire in the period 50 BC–AD 250 - Aphrodisias and Ephesos in Turkey, Athens in Greece and Gerasa in Jordan - this carefully researched study examines the instrumental factors behind regional and local urban developments and what these tell us about regional identity in the areas. It is argued that local communities were responsible for the organization and development of public space and buildings and took upon themselves this responsibility with a profound understanding of self-representation of urban communities within the framework of the Roman empire, but also with great knowledge of their own local and regional history and traditions. The development of an urban landscape can therefore provide useful information about many aspects of regional identity of a particular society.

The book also discusses the influence which the wealth of imperial freedmen had on the development of their native towns once they returned home, arguing that this phenomenon, characteristic of the early imperial period, is more widespread than previously assumed. Furthermore, the impact of individuals' benefactions on the urban landscape and how these played into the general local and regional identity is examined. Through an investigation of the interaction between architectural developments, historical and regional factors, Urban Development and Regional Identity in the Eastern Roman Provinces provides important insight into the processes nurturing the interactions between the built environment and the social and political culture and urban identity of individual towns in the eastern Roman empire.

Rubina Raja is associate professor at the Department of Classical Archaeology at Aarhus University.